The journal Corrosion Protection under the program.
The Ministry of Education and Science's "Development of Scientific Journals" is implementing project RCN/SN/0650/2021/12.
Project implementation time: 2023-2024.
The paper version of the journal is the original (reference) version.
Table of contents of the current issue and abstracts of articles – under the tab: Current issue
Tables of contents of earlier issues – under the tab: Archived issues
More about the magazine – here
Archival print version issues Please contact the Editorial office to purchase any archival issues (from the last 3 years).
Archival electronic version issues TECHNICAL INFORMATION PORTAL www.sigma-not.pl provides access to all the magazines issued by the SIGMA-NOT Publishing House. Interesting articles or notes can easily be found thanks to the advanced search engine functions. An electronic version of our magazine from year 2004 has also been made available at the website.
Free access SIGMA-NOT offer free access to chosen publications.
Paid access SIGMA-NOT offers the purchase of limited-time access to the archival issues. The limited-time access commences with the first signing-in – following a fee receipt notice, which will be communicated by SIGMA-NOT by email. You can also purchase the following: a single publication or single issue of the magazine. Available forms of payment: SMS, www.platnosci.pl , credit card, postal transfer, bank transfer. SIGMA-NOT issues an invoice for each transaction (except for SMS transfers). The user may print a proforma invoice via the Portal. The original invoice will be sent to the user by post to the address provided in the registration form within 14 days from completing the transaction.
Ministry of Education and Science awarded 40 points for publications in the journal "Ochrona przed Korozją". (1.12.2021)
Papers published in "Ochrona przed Korozją" are abstracted in BAZTECH.
Papers published in "Ochrona przed Korozją" are abstracted in Index Copernicus. – ICV (Index Copernicus Value) 2021: 120,52
"Ochrona przed Korozją" is indexed in Emerging Sources Citation Index – Journal List, a new database within Clarivate Analytics' Web of Science.
"Ochrona przed Korozją" is indexed in SCOPUS database.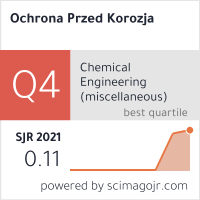 Since 2015, articles published in Corrosion Protection have been assigned a DOI number.
"Ochrona przed Korozją" is published in cooperation with the Polish Corrosion Society and the European Federation of Corrosion.
Topics of the journal include: corrosion phenomena and their research, research methods, corrosion protection technologies – paints, electrochemical protection, conversion coatings, metallic coatings, corrosion inhibitors, microbiological corrosion, electroplating, plastics. Corrosion protection of metals, concrete, wood.
Other columns: News, Conferences, Patent Review, New Books, Calendar of Events, New Materials and Technologies.